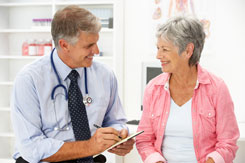 Patient Resources
ACP and Consumer Reports
The following High Value Care resources are a collaborative effort between ACP and Consumer Reports. These resources are designed to help patients understand the importance of seeking appropriate care in order to maximize value and live a healthy life.
---
ACP HVC Recommendations
Misuse and overuse of medical interventions that do not directly improve a patient's health contribute to waste in the healthcare system. ACP's goal is to determine whether diagnostic tests and treatments for various diseases provide good value, i.e. medical benefits that are commensurate with their costs and outweigh any harm. We do this by analyzing their benefits, harms, and costs based on the best available evidence.
Blood in the urine can be caused by some common problems, such as urinary tract infections, kidney stones, injuries, or certain medicines. Other more serious causes can include kidney diseases, including cancer.
Read the Summary for Patients
---
Acute respiratory tract infections (ARTIs) are common illnesses in adults. ARTIs include bronchitis, sinus infections, sore throat, and the common cold. Most are caused by a virus, not by bacteria. Antibiotics are medicines used to treat illnesses that are caused by bacteria, such as strep throat (medical name: group A streptococcal pharyngitis) or pneumonia. Antibiotics will not work for illnesses caused by viruses, such as the common cold. Antibiotics can cause harm when they are not used the right way.
Read the Summary for Patients
---
ACP developed advice on the use of generic medicines, which are copies of brand name medicines. ACP advises that clinicians should prescribe generic medicines, when possible, in place of more expensive, brand name medicines. Research shows that generic medicines are just as effective as brand name medicines. Generic medicines lower out-of-pocket costs for patients. By using more generic medicines, patients can save a lot of money without having any impact on their health care or outcomes.
Read the Summary for Patients
---
ACP developed advice for evaluation of patients with suspected pulmonary embolism. This advice is for clinicians treating adult patients in the outpatient setting or in the hospital.
Read the Summary for Patients
---
ACP offers advice for screening average risk adults without symptoms for five common cancers: breast, colorectal, ovarian, prostate, and cervical. Many people have a lack of understanding about the trade-offs of screening. Study after study has consistently shown that patients and many physicians overestimate the benefits and are unaware of and/or downplay the potential harms of cancer screening. ACP's goal is to encourage smarter screening by informing people about the benefits and harms of screening and encouraging them to get screened at the right time, at the right interval, with the right test.
Read the Summary for Patients
---
ACP offers advice for when women should be screened for cervical cancer and with which screening tests. This advice is for women with average risk (no family history, previous abnormal tests or other risk factors) and no symptoms. Clinicians should start screening average risk women for cervical cancer at age 21. Screening should be done once every three years with a Pap test without HPV test. Clinicians can screen women age 30 and older with a combination of BOTH the Pap and HPV test once every five years. This option is for women who want to be screened less often than every three years. Physicians should stop screening women over the age of 65, who have had three consecutive negative Pap tests, or two consecutive negative Pap tests with HPV tests. Clinicians should not screen women of any age who have had a hysterectomy with removal of the cervix.
Read the Summary for Patients
---
This article provides advice on cardiac screening with an electrocardiogram (sometimes called an EKG or ECG), a stress echocardiogram (sometimes called an "echo"), or myocardial perfusion imaging (MPI). ACP recommends that clinicians not screen for cardiac disease in low-risk patients with no symptoms. Clinicians and patients should focus on possible risk factors that can be changed. Protecting the heart through lifestyle changes can greatly reduce the risk for a cardiac event. These lifestyle changes are effective and low-cost ways of reducing risk and may include maintaining a healthy weight, exercising regularly, lowering blood pressure, maintaining healthy cholesterol levels, and not smoking.
Read the summary for patients
---
The estimated cost of treating each case of bedsores ranges from $37 800 to $70 000, and up to $11 billion is spent annually in the United States to treat bedsores. Prevention of bedsores is the first important step, and advanced static mattresses and overlays were associated with a lower risk for bedsores compared with standard mattresses in higher-risk patients.
Many hospitals in the United States use alternating-air and low-air-loss mattresses and overlays despite the lack of evidence showing a potential benefit in the reduction of bedsores in high-risk populations. Using these support systems is expensive and adds unnecessary burden on the health care system. Based on the review of the current evidence, lower-cost support services should be the preferred approach to care.
Read the guideline's summary for patients
---
ACP does not recommend the use of various advanced support surfaces, including alternating-air and low-air-loss beds, because the quality of evidence for these surfaces was limited and the harms were poorly reported and could be significant given the immobility of the patient. Furthermore, due to their expense, the use of advanced support surfaces adds unnecessary costs to health care systems.
In addition, although low quality evidence showed that dressings containing PDGF promoted healing, ACP supports the use of other dressings, such as hydrocolloid and foam dressings, which are effective at promoting healing and cost less than PDGF dressings.
Read the guideline's summary for patients
---
Communication about goals of care is a low-risk, high-value intervention for patients with serious and life threatening illness; these discussions should begin early in the course of life-limiting illnesses. Early discussions about end-of-life care issues are associated with improved patient outcomes, including better quality of life, reduced utilization of non-beneficial medical care near death, and care more consistent with patients' goals. This approach is also associated with improved family outcomes and reduced costs. Ideally, communication about serious illness care goals should come from the patient's primary clinician even when a team of clinicians is involved with the patient's care. ACP supports the need for improving the approach to serious illness and end-of-life care, as well as the system changes needed to assure thoughtful and timely communication with patients and their family members across all health care settings.
Read abstract
---
Exercises to strengthen the muscles of the pelvis should be the first treatment for stress UI. Bladder training should be used for urgency UI. A combination of pelvic strengthening exercises and bladder training should be used for women with both stress and urgency UI. Drugs should not be used for stress UI but should be used for urgency UI when bladder training has not helped enough. Side effects, convenience, and costs should be considered when choosing drugs. Obese women should exercise and lose weight to help UI.
Read the guideline's summary for patients
---
Patients with daytime sleepiness that is not explained by other causes should have a sleep study to determine whether sleep apnea is present. A full-night, attended, in-laboratory polysomnogram should be used to evaluate patients suspected of having sleep apnea. If a polysomnogram is not available, a portable sleep study should be performed if the patient does not have any serious, chronic medical problems.
Read the guideline's summary for patients
---
Doctors should not do screening pelvic examinations on non-pregnant, adult women who do not have symptoms of possible pelvic disease. Pelvic examination should be done if symptoms are present or the patient is pregnant.
Read the guideline's summary for patients
---
Blood transfusions should be restricted to treating more severe anemia rather than milder anemia in patients with heart disease, and erythropoiesis-stimulating agents (ESAs) should not be used to treat mild to moderate anemia in patients with heart failure or coronary heart disease. Read ACP's complete summary for patients
---
ACP recommends against screening for chronic kidney disease (CKD) in asymptomatic adults without risk factors. There is no evidence that evaluated the benefits of screening for stage 1-3 CKD. The potential harms of all the screening tests -- false positives, disease labeling, and unnecessary treatment and associated adverse effects -- outweigh the benefits. Read the guideline's summary for patients
---
People diagnosed with obstructive sleep apnea (OSA) should lose weight and use continuous positive airway pressure (CPAP) as initial therapy. ACP recommends a mandibular advancement device as an alternative therapy for patients who prefer it or who do not tolerate or comply with CPAP treatment. The available evidence was limited on treating OSA with surgery, which is associated with serious adverse events and should not be used as initial treatment. Access the High Value Care advice
---
Men between the ages of 50 and 69 should discuss the limited benefits and substantial harms of the prostate-specific antigen test with their doctor before undergoing screening for prostate cancer. Read the Full Article
---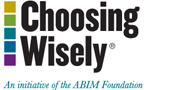 As part of the ongoing Choosing Wisely campaign, ACP partnered with the ABIM Foundation to develop a set of interactive skill-building video modules to enhance physician communication. Evidence shows that patient-doctor communication is perhaps the most significant component of a patient's visit. By completing the modules, internists will learn strategies to build trust and address patient attitudes and beliefs. View ACP's modules at choosingwisely.org/modules/acp.
The Choosing Wisely campaign is focused on encouraging physicians, patients and other health care stakeholders to think and talk about medical tests and procedures that may be unnecessary, and in some instances can cause harm. As part of the campaign, ACP has also developed a list of "Five Things" internists and patients should question in internal medicine. View the list.
---
The Effective Health Care Program, part of the Agency for Healthcare Research and Quality, provides research summaries about the benefits and risks of different treatments for different health conditions. The summaries are based on comparative effectiveness reviews that cover health topics suggested by the public. Topics include Breast Biopsy, C-diff Infections, and Mental Health Medications. These research summaries are not clinical recommendations or guidelines and should not be interpreted as such.
High Value Care Videos
View our entire collection of videos
on High Value Care.
Watch the Videos