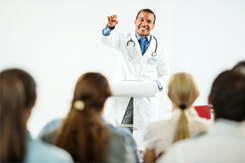 Curriculum

for Educators and Residents

Download the Curriculum Overview (.docx)
The High Value Care Curriculum (HVC) has been jointly developed by the American College of Physicians (ACP) and the Alliance for Academic Internal Medicine (AAIM) in an effort to train physicians to be good stewards of limited healthcare resources. This curriculum was initially released in July of 2012 and is available in a condensed and updated format. The newer version of the curriculum can be completed in six hours and includes audio/video content and a robust program director toolbox to help program directors measure curricular impact and individual resident performance in high value care.
Six Curriculum Topics:
1. Eliminating Healthcare Waste and Overordering of Tests
2. Healthcare Costs and Payment Models
3. High Value Diagnostic Testing and Cancer Screening
4. High Value Hospitalization
5. Overcoming Barriers to High Value Care
6. High Value Quality Improvement
Program Director's Toolbox:
This toolbox includes a retrospective pre-post survey that you can give to your residents after completing the six hour curriculum to measure its effectiveness. In addition, tools to help faculty and program directors assess resident competence in high value care milestones are provided. Examples include a high value care educational prescription, framework for resident audit and feedback in high value care, and a sample evaluation form that includes NAS milestones specific for high value care.
Curriculum Authors:
---

Developing Your Faculty to Implement the High Value, Cost-Conscious Care Curriculum: 30-minute video on how to develop your faculty to teach high value care.
---
Live Meeting: Learn to Teach and Assess High Value Care and Quality Improvement Milestones
The American College of Physicians (ACP) in collaboration with the Alliance for Academic Internal Medicine (AAIM) will host a one-day meeting for faculty interested in learning how to better engage, mentor and assess trainees in high value care quality improvement projects.
Wednesday, March 16, 2016 9 a.m.-4 p.m. at the American College of Physicians
High Value Care Videos
View our entire collection of videos
on High Value Care.
Watch the Videos