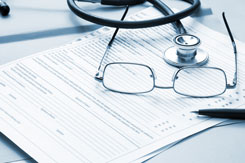 Clinical Recommendations
Misuse and overuse of medical interventions that do not directly improve a patient's health contribute significantly to the unsustainable growth of healthcare spending. ACP's goal is to determine whether diagnostic tests and treatments for various diseases provide good value, i.e. medical benefits that are commensurate with their costs and outweigh any harm. We do this by analyzing their benefits, harms, and costs based on the best available evidence.


---
ACP's Clinical Guidelines and Recommendations provide clinicians information based on the best available evidence and help physicians and patients understand the benefits, harms, and costs of interventions and to determine whether services provide good value. Access ACP Guidelines and Clinical Recommendations
---
The High Value Care Recommendations provided in MKSAP® 16 are based on the medical knowledge content. They will inform physicians on diagnostic and management strategies for patients in specific clinical situations that balance clinical benefit with cost and harms with the goal of improving patient outcomes. Access MKSAP® Recommendations
---
Smart Testing
The American College of Physicians (ACP) and Cleveland Clinical Journal of Medicine (CCJM) have collaborated to create a new series, Smart Testing, which offers short, clinically engaging vignettes and discussions on the appropriate use of imaging procedures and other diagnostic tests. The vignettes depict common situations in clinical practice, and the discussions focus on identifying and incorporating evidence-based recommendations most likely to provide optimal patient outcome and value.
Access Smart Testing
---
ACP and Consumer Reports
Men between the ages of 50 and 69 should discuss the limited benefits and substantial harms of the prostate-specific antigen test with their doctor before undergoing screening for prostate cancer. Read the Full Article
---
The High Value Care Task Force (HVCTF)
The High Value Care Task Force (HVCTF) develops recommendations and resources focused on high value care that assist physicians to provide the best possible care to their patients while simultaneously reducing unnecessary costs to the healthcare system.
Disclosures of Interest for all members and ACP staff are reported, discussed, and resolved at the start of each High Value Care Task Force meeting and conference call.
High Value Care Videos
View our entire collection of videos
on High Value Care.
Watch the Videos