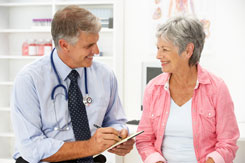 Patient Resources
Doctors should not do screening pelvic examinations on non-pregnant, adult women who do not have symptoms of possible pelvic disease. Pelvic examination should be done if symptoms are present or the patient is pregnant.
Read the guideline's summary for patients
---
Blood transfusions should be restricted to treating more severe anemia rather than milder anemia in patients with heart disease, and erythropoiesis-stimulating agents (ESAs) should not be used to treat mild to moderate anemia in patients with heart failure or coronary heart disease. Read ACP's complete summary for patients
---
ACP recommends against screening for chronic kidney disease (CKD) in asymptomatic adults without risk factors. There is no evidence that evaluated the benefits of screening for stage 1-3 CKD. The potential harms of all the screening tests -- false positives, disease labeling, and unnecessary treatment and associated adverse effects -- outweigh the benefits. Read the guideline's summary for patients.
---
People diagnosed with obstructive sleep apnea (OSA) should lose weight and use continuous positive airway pressure (CPAP) as initial therapy. ACP recommends a mandibular advancement device as an alternative therapy for patients who prefer it or who do not tolerate or comply with CPAP treatment. The available evidence was limited on treating OSA with surgery, which is associated with serious adverse events and should not be used as initial treatment. Access the High Value Care advice here.
---
Men between the ages of 50 and 69 should discuss the limited benefits and substantial harms of the prostate-specific antigen test with their doctor before undergoing screening for prostate cancer. Read the Full Article
---
ACP and Consumer Reports
The following High Value Care resources are a collaborative effort between ACP and Consumer Reports. Derived from ACP's evidence-based clinical practice recommendations published in Annals of Internal Medicine, these resources are designed to help patients understand the benefits, harms, and costs of tests and treatments for common clinical issues.
Low pain can be excruciating. So it seems that getting an X-ray, CT scan, or MRI to find the cause would be a good idea. But that's usually not the case, at least at first. Read the Full Article
---
If you've been given a diagnosis of Type 2 diabetes, you might assume you'll need medication to help control the disease. But lifestyle changes alone can sometimes lower your blood sugar levels enough that drugs aren't needed. And when they are, the best first choice usually isn't one of the newer, heavily advertised ones on the market. Instead, it's metformin, a drug that has been around for nearly two decades and is available as a low-cost generic. Read the Full Article
---
People with heartburn often undergo a procedure called endoscopy to see if gastro-esophageal reflux disease (GERD) is the cause, and if it is, to check periodically for complications. But that's usually not necessary. Read the Full Article
---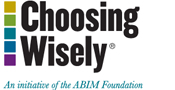 As part of the ongoing Choosing Wisely campaign, ACP partnered with the ABIM Foundation to develop a set of interactive skill-building video modules to enhance physician communication. Evidence shows that patient-doctor communication is perhaps the most significant component of a patient's visit. By completing the modules, internists will learn strategies to build trust and address patient attitudes and beliefs. View ACP's modules at choosingwisely.org/modules/acp.
The Choosing Wisely campaign is focused on encouraging physicians, patients and other health care stakeholders to think and talk about medical tests and procedures that may be unnecessary, and in some instances can cause harm. As part of the campaign, ACP has also developed a list of "Five Things" internists and patients should question in internal medicine. View the list.
---
The Effective Health Care Program, part of the Agency for Healthcare Research and Quality, provides research summaries about the benefits and risks of different treatments for different health conditions. The summaries are based on comparative effectiveness reviews that cover health topics suggested by the public. Topics include Breast Biopsy, C-diff Infections, and Mental Health Medications. These research summaries are not clinical recommendations or guidelines and should not be interpreted as such.
High Value Care Videos
View our entire collection of videos
on High Value Care.
Watch the Videos