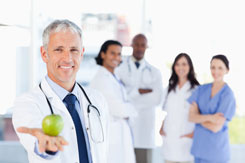 Curriculum

for Educators, Residents, and Students

Developing Your Faculty to Implement the High Value, Cost-Conscious Care Curriculum

Download the Curriculum Overview (PDF)
Residents must prove competent in six general areas of medical practice to complete their training. The competency related to high value care is part of the 6th competency on System-based Practice and reads - Practice cost-effective health care and resource allocation that does not compromise quality of care.
The High Value Care Curriculum is designed to help shape the habits of future physicians during their medical education experience.
Ten interactive one hour modules based on actual patients and their hospital bills will help residents develop habits of using high value care by using a five-step framework. The modules are designed for flexibility so they can be easily incorporated into the existing conference structure of a residency program.
Some of the important topics covered are:
High Value Medication Prescribing
Barriers to High Value Care
The Basics of Health Insurance
Balancing Benefits With Harms and Costs
How To Do a Local High Value Quality Improvement Activity
High Value Care Videos
View our entire collection of videos
on High Value Care.
Watch the Videos